Best Driving Destinations Australia – Victoria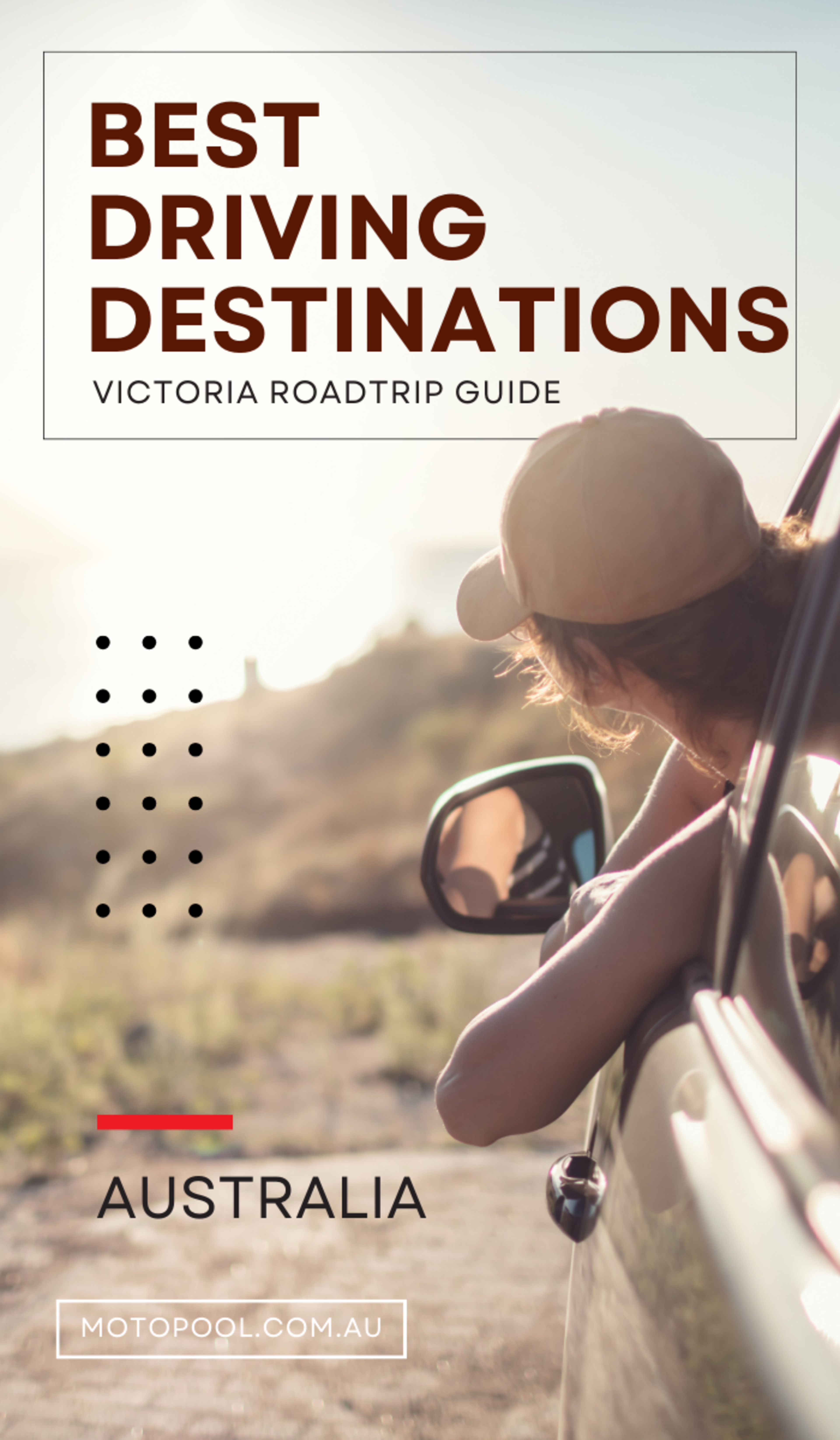 Thinking of your dream Australian road trip around beautiful Victoria? Whether you're planning a solo adventure, a romantic getaway, or a family excursion, having the right vehicle for your journey is crucial. That's where Motopool's car subscription service comes in – we're here to ensure you have the perfect ride for your road trip of a lifetime.
In Australia, we are blessed with some of the best driving destinations in the world. With the weather warming up, now is the perfect time to plan your next road trip. Soak up the breathtaking views and plan an itinerary worthy of royalty. Driving allows you the flexibility to experience these destinations at your own pace, and Motopool can provide you with the ideal car to make your journey even more enjoyable.
The Great Ocean Road – Victoria
By far one of the most spectacular driving experiences in Australia, The Great Ocean Road in Victoria is more than just a drive – it's an experience. With breathtaking coastal views and diverse wildlife, you can secure a once-in-a-lifetime event.
Marvel at the towering cliffs and rock formations before a visit to the Twelve Apostles. Or take a stroll on the golden sands while visiting the famous Loch Ard Gorge. When the time comes, make a much-needed detour through the Otway National Park to enjoy lush rainforests and cascading waterfalls – cue the Instagram pics!
The Great Ocean Road is also steeped in history. The road itself was built by returning soldiers in 1919-1932 and today stands as a memorial to those who lost their lives during World War 1. The entire road is one of the world's largest war memorials. A stretch of the Great Ocean Road was a well-known shipping route for trade, known as The Shipwreck Coast, tells many tales of this treacherous coastline and is thought to have claimed around 700 shipwrecked vessels. It's no wonder this is one of the most visited locations in Australia.

Summer is by far the best time to visit this idyllic location. The months from December to February are not only the warmest, they also enjoy longer days and a much decreased chance of rain.
The Great Ocean Road is most certainly the best scenic route in Victoria. Starting at Torquay it is around a one-hour drive from Melbourne. The experts agree that it takes a good two to four days to complete the coastal drive, particularly with so much to see and do.
Soak up the rich history or simply sit back and enjoy the ride. The Great Ocean Road has plenty of things to see and do. From exploring Aboriginal heritage like Tower Hill, which sits on top of an extinct volcano, or participate in bird and whale-watching exhibitions. For thrill-seekers, there is plenty to keep your adrenalin pumping from the world-famous surf spot at Bells Beach to zip-lining through the rainforest and ample hiking trails.
For the foodies, there is ample opportunity to enjoy a feast. Enjoy fresh local seafood or relax with a platter of gourmet cheeses, chocolates, and world-class wine. The Great Ocean Road is speckled with ample eateries and shops offering local delicacies and delicious food. The western orientation of the coastline also offers some of Australia's most incredible sunsets.
The Great Ocean Road is a fusion of natural wonders, history, wildlife, and adventure, making it a must-visit Australian landmark. Whether you're looking for a tranquil escape, a historical journey, or an adventure-filled excursion, this iconic route promises an unforgettable experience. As you wind along the coastline, every turn reveals another marvel, ensuring that the journey is just as memorable as the destination.
There are plenty of websites that can help you plan your itinerary to the Great Ocean Road perfectly;
Well known for their incredible vineyards and wineries the Yarra Valley is the perfect escape for wine enthusiasts and foodies alike. Weave through the rolling hills of Melbourne visiting cellar doors and pretty villages while taking in the spectacular views of this wonderful drive. Showcasing the real essence of a countryside adventure the drive to the Yarra Valley and Dandenong Ranges pushes you out of the city and into the relaxation zone – and the biggest bonus is that this trip is only an hour out of Melbourne, making it perfect for a weekend getaway. With a total round trip of around three hours, this adventure makes it a very enjoyable experience for those wanting to get out and about on the road, without an extended journey time.

With grapes and wine in mind, the best time to visit the Yarra Valley is during early Autumn around March. This will allow you to experience the hum and vibes of harvest. Towards the end of Spring is another great time to take this journey as the weather is pleasant and warm.
Only a short hop from Melbourne, the Yarra Valley is easy to find and an incredibly enjoyable drive. Head on the Eastlink Tollway towards Ringwood and onto the Maroondah Highway towards Lilydale. Once you pass through Lilydale you can choose your way to explore the Yarra Valley.
With so many places to stop, grab a bite to eat and enjoy a taste or two of wine this trip will please wine lovers and foodies alike. Head for a wine tasting or explore the stunning wildlife and nature on offer. There is a selection of tours available from day trips and dining experiences to culinary tours and wineries.
There are plenty of websites that can help you plan your itinerary to the Yarra Valley perfectly;
A half-day driving trip from Halls Gap to this stunning national park is certainly worth the time and effort. A natural wonderland featuring sandstone mountains, majestic waterfalls, hiking trails and an abundance of wildlife, the Grampians drive is the perfect trip for the avid adventurer. The drive is also speckled with wonderful lookout points to pull over, take a quick break and enjoy the view.
Taking a trip from September to November or in Autumn from March to May is the best time to visit the Grampians. Not only is it less busy, it also offers the best weather to view wildlife and take on a hike.
Drive west from Melbourne to Halls Gap, the main gateway to the Grampians National Park. It's a nice easy drive and perfect for those with tight deadlines who love to get out and about.
Visit the stunning Reed Lookout in the Victoria Valley and walk the rocky path to the Balconies and towards the Stringybark Forest or take a trip to the remarkable Mackenzie Falls. If you've got the time to spare; spend a few days exploring the Grampians at Halls Gap or discover the rugged mountain ranges, Aboriginal history, and spectacular wildflowers on display.
There are plenty of websites that can help you plan your itinerary to the Grampians perfectly;
Visitgrampians.com.au

Australia.com


www.parks.vic.gov.au
The Great Alpine Road is simply an unforgettable journey through the Australian Alps and one all driving enthusiasts should certainly have on their bucket lists. Showcasing some of the world's most pristine landscapes and alpine scenery, it's certainly one drive that will dazzle the eye and stir the soul. Visit charming villages and historic mines, and for those who love to ski this is the perfect opportunity to combine your love for snow and driving.
This is an all-year-round experience and can be tailored for your specific needs. If you are wanting snow, the months of June – October are perfect for the skiing enthusiasts. For those who are wanting to experience warmer weather or camping adventures the months of November-March will provide steady warm conditions.
The 339km adventure along the year-round sealed road is one to remember. Starting at Wangaratta and heading towards Metung is around a five-hour drive. Wind your way through the Ovens Valley to Harrietville and towards Mount Hotham. Then begin your descent towards the coastal village of Metung on the Gippsland Lakes to take in all the beauty of this magnificent drive. Or if you are travelling to Mt Hotham or Dinner Plain first you can do this route in reverse.
Visit the historic gold mining town of Beechworth and enjoy skiing or hiking at the renowned Mount Hotham. Or enjoy a sip or two of fine wine at the famous Brown Brother Epicurean Center and Cellar Door. If you're a cheese lover, the Milawa Cheese Factory is one stop you won't want to miss! For the history buffs; a must on your stop is a visit to the courthouse where the trial of the famous bushranger Ned Kelly commenced. From beer to pizza, historic sites and a spot of skiing or hiking there is something for everyone on this trip.
An island sanctuary you want to take advantage of. Not only for its beautiful drive but also its breathtaking scenery with 101 square kilometres of adventure. As one of Australia's best-visited islands, Phillip Island is well known for its world-famous Little Penguin colony and the renowned Australian Moto Grand Prix. From adoring the seals to enjoying a taste of some of the world's best wines, Phillip Island is a spectacular experience for the senses. Just a short drive from Melbourne, Phillip Island is easily accessible by car and a journey worth putting on your driving bucket list.
There is always something to do all year round, making Phillip Island an excellent destination for your next road trip. However, depending on if you prefer the warmer weather from November through to March, it will see you enjoying much milder conditions. But if you don't mind the cold, you can beat the crowds and still enjoy the stunning features of Phillip Island. If you want to watch the famous penguin parade at sundown each night, the best time in summer is around 9.00 pm and a little earlier in the winter at around 6.00 pm.
The easiest way to reach Phillip Island is by car heading out of Melbourne. A short drive of under two hours will see you enjoying some breathtaking scenery as you approach this popular tourist destination. Head onto the Monash Freeway towards the South Gippsland Highway and Bass Highway until you reach Phillip Island Road and the stunning bridge connecting this sanctuary to the mainland.
Depending on your tastes and what you want to enjoy, there is something for everyone at Phillip Island. From watching the famous penguins walk towards the water at sundown to helicopter trips, seal viewing, or perhaps enjoying a bite and a world-renowned glass of wine. There is also a selection of guided tours and even a sunset cruise. Or, if you are looking for high-speed action, plan your trip around the motorsport series at the famous Phillip Island Grand Prix Circuit.
There are plenty of great websites to help you plan your Phillip Island adventure;
https://www.visitphillipisland.com.au/discover/phillip-island-101

https://www.visitmelbourne.com/regions/phillip-island/see-and-do/road-trips-and-itineraries/phillip-island-touring-route

https://www.australia.com/en-nz/places/melbourne-and-surrounds/guide-to-phillip-island.html

The Dandenong Ranges are located east of Melbourne, where the mountains and forests combine for a genuinely magical driving experience. While most tourists to this region take in the adjoining Yarra Valley, the Dandenong Ranges has so much to see and do, it's no wonder it is a destination in its own right. Home to some of the most incredible experiences, from enjoying the lush fern gullies and rushing waterfalls to a high-tea experience fit for royalty, it's no wonder it's a popular destination for tourists and locals alike. Enjoy towering forests and stunning villages or take a memorable trip on the heritage Puffing Billy Railway, the Dandenong Ranges is a spectacular combination of sights and experiences that will create beautiful memories for the young and old.
Early spring and summer are the best times to visit the Dandenong Ranges. September through December will provide warm, dry weather to explore the area. Plus, the region is bursting to life around this time of year with tourists and festivals.
From Melbourne City, head towards Yarra Valley via the Eastlink Tollway, making your way onto the Eastern Freeway towards Ringwood. Follow the Eastlink Tollway to the Mullum Mullum Tunnel and turn left after exiting the tunnel. Head towards Ringwood before turning left onto the Maroondah Highway. Head towards Lilydale and choose your exploration route of Yarra Valley and the Dandenong Ranges.
There is so much to do, and it is essential that you carefully plan your itinerary to ensure you get the best out of your time. There are plenty of guided tours on offer that can showcase a range of activities and sights. Plan a wildlife expedition or jump on the heritage Puffing Billy train for a different experience. From treetop adventures and wandering the delicious lavender farms to driving up towards the Skyhigh Mount Dandenong to enjoy some of Melbourne's most panoramic views, there is an adventure suited to anyone in this unique region. Stretch those legs and hop out of the car to enjoy the Dandenong Ranges National Park with the 1000 Steps Kokoda Walk and immerse yourself in Aboriginal culture and the incredible mountainous forests and fern gullies.
Planning is paramount for the Dandenong Ranges, as there is so much on offer.
https://www.visityarravalley.com.au/discover/dandenong-ranges
https://www.visitmelbourne.com/regions/yarra-valley-and-dandenong-ranges/see-and-do/nature-and-wildlife/dandenong-ranges-scenic-attractions

https://www.australia.com/en-nz/places/melbourne-and-surrounds/guide-to-the-dandenong-ranges.html

A coastal paradise famous for its pristine beaches, olive groves, vineyards, and orchards, the region is also known to sport some of the world's best golf courses - boasting eight of the top 50 courses in Australia. Only a short hop from Melbourne, the Mornington Peninsula is bursting with life, particularly in the summertime. With so much diversity, it's no surprise this region is a popular destination for locals and tourists. Hit the beach, hike, or sample some of Australia's best Pinot Noir. There is a wealth of activities at your doorstep that will please everyone on your road trip adventure.

Undoubtedly, the Mornington Peninsula is a buzz of life and activities during the summertime and very quiet during the winter. In saying this, the best months to visit this stunning region are from December to February. This time of year will also see you enjoy the summer weather and the calm waters of Port Phillip Bay.
Taking around about an hour from Melbourne, the drive to the Mornington Peninsula is a pleasant and relaxing cruise, regardless of whether you choose the scenic coastal roads or the freeways. Follow the M1 towards Dandenong North and take the M3 Eastlink towards Carrum Downs. Take the M11 Mornington Peninsula Link towards the heart of the Mornington Peninsula that ends at Mount Martha.
Fancy a golf swing at one of Australia's best-rated golf courses or planning on working on that summer tan at the massive array of magnificent beaches? The Mornington Peninsula is one trip that can undoubtedly please many. Take a dip in the Peninsula Hot Springs or book a wildlife adventure with one of the conservation parks or farms on offer. Cape Schanck Lighthouse is a popular tourist destination or head off on a stroll through Point Nepean National Park. There is also an Enchanted Adventure theme park known for its mazes, tube slides and tree surfing! With so many beautiful places to grab a bite to eat, you can choose a holiday that perfectly suits your needs, whether a thrill-seeking adventure or a more relaxed, carefree trip.
It's always best to plan when visiting the Mornington Peninsula;
https://www.visitmorningtonpeninsula.org/

https://www.australia.com/en-nz/places/melbourne-and-surrounds/guide-to-the-mornington-peninsula.html

https://www.visitmelbourne.com/regions/mornington-peninsula

Needing a car for your epic adventure? Motopool can provide you with the perfect car for your road trip destinations with flexible car subscriptions starting from a minimum of two months, ensuring you have the right vehicle for your journey. Call our friendly team today to see how we can get you on the road for your next Australian road trip.